We tried this as a contest a few months ago, but the response was less than enthusiastic. Come on crab owners! Share your photos!!!



This is the current species identification chart that we have to share with members who are looking to find out what species their crab is: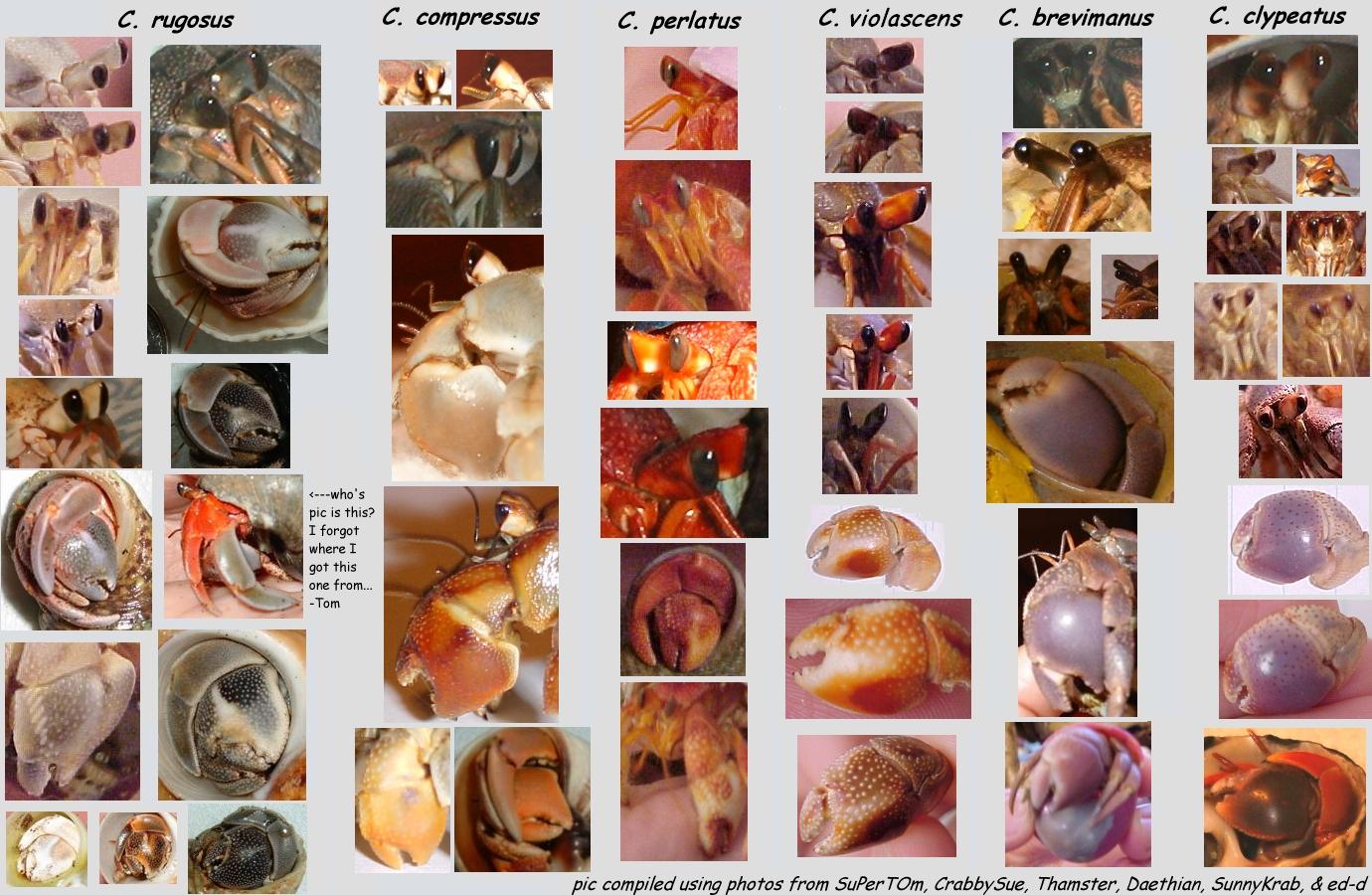 http://www.hermitcrabassociation.com/pages/species.jpg

As you can see, the information is outdated (cavipes are no more, they are actually violas), species are just plain missing (blueberries and aussies), and there have been some advances in cameras since then.



So, what the HCA is hoping, is that it's wonderfully kind members will share their best ID photos of their crabs!



(Plus, this is going to be an excellently awesome photo thread.

)



The "rules":
* All photos must be clear, and have to be larger than 800x600. (Full-sized photos would be ideal!)

* Photos must be owned by you!

* Your photo will be credited to your username if it is chosen. If you would like it credited to your actual name let us know, but it will be published for the public to see.

* By posting a photo in this thread you agree to let the HCA use it for the purposes of creating a species ID comparison page, and for species identification on caresheets. If we want to use it for something else, we must get your permission first. The HCA may crop, re-size and adjust color/brightness as needed to create an easy to use ID guide.

* You must have the actual file (edited or original) to e-mail in for use - photos will not be copied from photo sharing websites.

* If your photo is chosen we'll contact you by PM with more information and the e-mail address to use to submit the photo.

* You may post as many photographs of a specific species as you would like, as many times as you would like, until the species you are submitting for has been declared finished. See the following post for what species we are still taking submissions for. (Since obviously we'll have an easier and faster time finding great photos for PPs and Es than we will for more rarely kept species like Blueberries and Indos. )

* ANYONE can enter - Members, Mods, Admins, New Crab Owners - anyone!!

* Photos to be used will be chosen by the Mods and Admins, based solely on how well the photos are able to identify a specific species. This is not a popularity contest, and we won't be paying attention to who submitted what. (We tried the anonymous route, but no one was interested.) We are just looking for the best photos out there to help others understand more about their hermit crab!



So what are we looking for? Photographs like the ones above, plus differences in colors. We need multiple photos of each of the following:
* Eyes and eyestalks from all angles to show the unique shapes of the different species

* The Big Pincher when closed into a shell

* Front views of the entire crab

* Side views of the entire crab from both the left and the right

* Any photograph that shows the range of colors that they come in - common, rare, and due to age.



How to submit a photo:
* It needs a name, so we can communicate which photo it is that was chosen. This can be an actual name "Spike on the Cholla", a description "Indo - Eyes", or a number "1". Photo names can be reused by other people, but make sure none of your own have the same name or it'll get confusing.

* It needs to have the master size listed. ie, 800x600, 1200x 800, "full-sized", etc.

* It needs to have the species named.

* You are welcome to give the crab's name! It will be included along with the credit to your username. (ie. "Moya" by wodesorel)

* Please see the following post for an example of the submission format, since I hope we have a ton of photos posted and we want this thread to be easy to navigate!




Please help us create a wonderful new species ID guide!