The little ones are home!

I was surprised, my two from my classmate are tiny little guys. The one from my neighbor is almost twice their size, I think (and has already bowled one of the little ones over by climbing over him...jerk).
So far so good in general, and they seem to be enjoying exploring their new large home. The one lone crab was in a 10gal with very shallow substrate, nothing to climb & temperature/humidity both too low (70* & 40%). The two little ones from my classmate were in a 5gal with very shallow dry substrate, which I think she told me was calci-sand.

Even though they seem to be enjoying the new tank & seem relatively comfortable (as far as I can tell, lol), I'm still worrying about the temperature and humidity. I'm waiting for my digital thermometer/hygrometer to calibrate, so I still don't know the humidity yet. But I have a different digital thermometer in & it's still saying only 77.7*, which is the highest it's gone so far.
This is kind of what my set up looks like: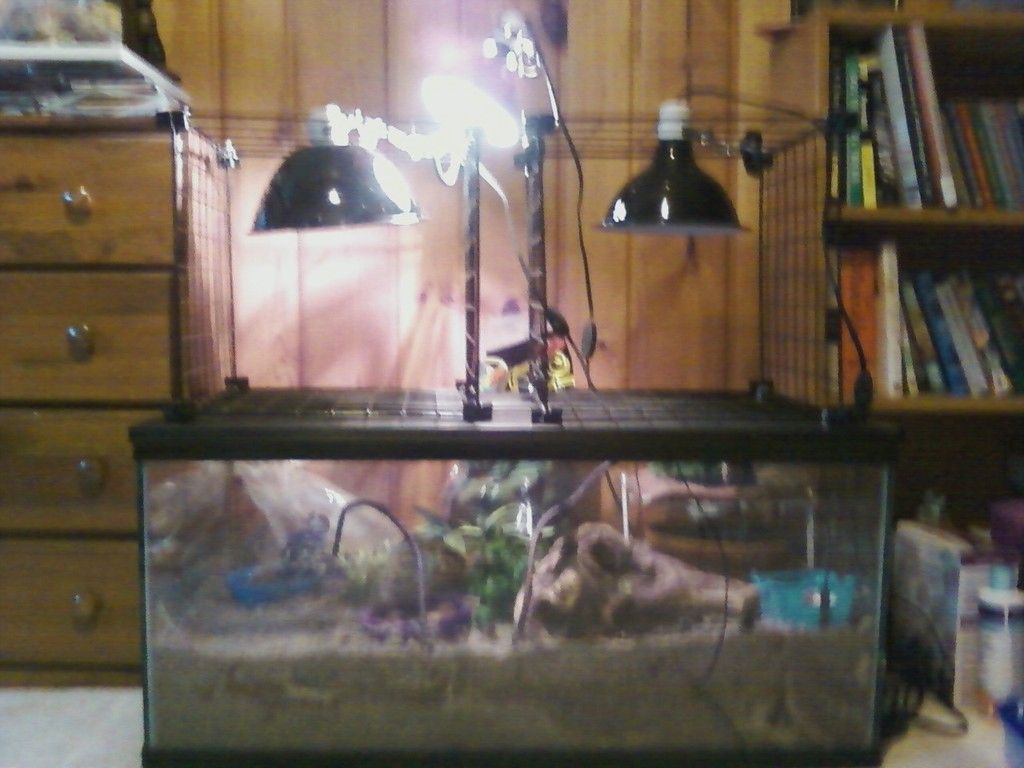 The larger lamp has a 150watt CHE, the smaller one has a 100watt CHE. I have since moved both lamps to sit directly on the top, both on the left side (there's nothing up higher on that side, which was what was worrying me & why I didn't want them on the top on the right side, because of the shelf). I covered the right side with some clingwrap to try & help hold in heat. I'm not sure what else I should try for tonight...Will they be okay? Does anyone have ideas for what I can try to get the heat up to the proper temperature? Even if they've been dealing okay with worse temperatures, I want everything to be perfect for them!